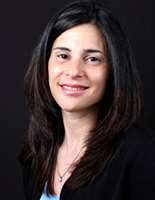 Valerie J. Berkowitz, M.S., R.D., C.D.N., C.D.E., is a licensed registered dietitian, certified diabetes educator and certified lifestyle counselor practicing for 13 years. She is the Director of Nutrition at the Center for Balanced Health. Prior to this, Valerie worked as a nutritionist at The Atkins Center for Complementary Medicine (ACCM).
While employed at The Atkins Center for Complementary Medicine, her efforts focused on bridging the gap between conventional and complementary nutritional practice and included educating patients, mentoring nutrition students, speaking at events for consumers and health care professionals, in addition to assisting in research efforts. These efforts helped her gain invaluable scientific and practical understanding of the intricacies of controlled carbohydrate nutrition plans and the beneficial medical implications.
Ms. Berkowitz was also a clinical dietitian for the Long Island Jewish Medical Center/ Schneider Children's Hospital as well as a nutrition and wellness counselor in private practice.
Ms. Berkowitz completed an internship at Camp Shane, a retreat for overweight children, in Ferndale, NY. In addition to teaching classes at the camp, she held cooking demonstrations and contributed to the children's yearly newsletter.
Ms. Berkowitz recently acted as a reviewer for "The Sweet Truth about Managing Type 2 Diabetes," published by Pritchett & Hull Associates Inc., in 2004. She created a quarterly column for diabetes educators and has been published in the monograph, "Managing the Patient with Diabetes."
Ms. Berkowitz received her B.S. in Nutrition from the University of Rhode Island and her M.S. in Nutrition from New York University.
Click book for more information
(Visited 173 times, 1 visits today)