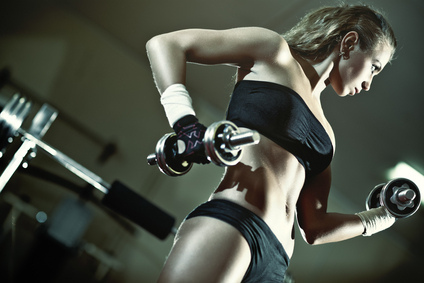 "If you don't have good muscle, you don't have good health." It's hard to argue with advice from David Marshall aka The Bodydoctor, who is the trainer to the stars and is responsible for getting Kate Moss, Sophie Dahl, Lily Allen and Rachel Weisz in shape.
Every so often the fitness world gets a new darling to rave on about – last year it was the importance of resistance training, and while that is still the favourite among personal trainers, this year the spotlight is on weights.
Specifically the importance of doing them, and what part they have to play in losing weight, getting toned or simply getting strong.
Celebrity trainer and former UK's Strongest ManRob Blakeman says: "Only weight training will improve your shape and give you that Hollywood style tight biceps and buns. All the aerobics and calisthenics in the world may improve your cardiovascular system and increase flexibility, they may even help burn a few pounds off but if you start out as a pear shape you'll end up a slightly smaller pear shape. New, improved curves will only come with progressive and intense weight training."
Ladies, this one is for you too – as we've heard the lament go round the office about the fear of getting bulky. Nia Shanks on her website sums this up perfectly: "the true culprit that gives a woman a bulky appearance is excess body fat. Period."
Similarly, Women's Health reported:"A recent study at the University of Alabama at Birmingham compared dieters who lifted three times a week with those who did aerobic exercise for the same amount of time. Both groups ate the same number of calories, and both lost the same amount—26 pounds—but the lifters lost pure chubb, while about 8 percent of the aerobicisers' drop came from valuable muscle. Researchers have also found that lifting weights is better than cardio at whittling intra-abdominal fat—the Buddha-belly kind that's associated with diseases from diabetes to cancer."
We asked the experts about the best reasons to do weights. Here's what they had to say: Read more
(Visited 50 times, 1 visits today)