A long time practitioner of the paleo lifestyle Shannon started to notice something about her favorite natural products… they were hardly "natural" after all! Many used ingredients that were highly processed, questionably safe and just seemed 'green washed'.
Using the principals of the paleo lifestyle; clean eating and high nutrients Shannon drew inspiration from her passion for traditional beauty secrets and created The Dirt Paleo Personal Care.
---

The Dirt Paleo Personal Care was founded to start a revolution. 

We were not satisfied with the natural product lines on the market, many a 'green washed' to look much safer than they actually are and most use soy or corn byproducts which are cheap and unnecessary fillers. We demand more!

All of our products are Soy Free, Corn Free, Gluten Free, Grain Free, Cruelty Free and Natural. We don't use fillers, ever! Our essential oil blends are formulated to preform not just smell good (Sorry other guys). Everything about our product blends is intentional… and awesome. 

Because, why should your healthy lifestyle stop at your plate? Fix your face! The dirt is 100% natural 200% kick-ass.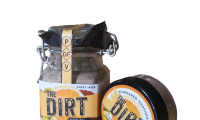 See Shannon's Website
(Visited 38 times, 1 visits today)