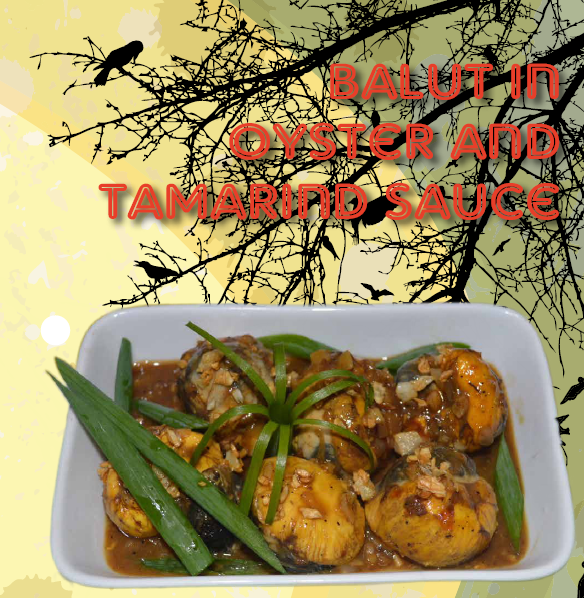 Balut is a fertilized duck egg with a nearly-developed embryo inside that is boiled and eaten in the shell. They are considered delicacies of Asia and
especially the Philippines, China, Cambodia, and Vietnam.
Popularly believed to be an aphrodisiac and considered to be nutritious they are also low carb and high fat.
The Filipino and Malay word balut (balot) roughly translates to mean "wrapped".
Ingredients:
• 6 pcs balut eggs with shell, boiled
• 1 tablespoon butter
• 1 tablespoon garlic, minced
• 1 tablespoon onion, minced
• 2 tablespoon oyster sauce
• 1 tablespoon tamarind sauce
• Salt and pepper to taste
Garnishing:
• 2 sprigs spring onion, sliced
• 1/2 tsp garlic, browned
Preparation:
Remove the shell of the cooked balut and reserve the juice for later use.
In a sauce pan, melt butter and sauté garlic and onion until golden brown.
Next add the balut and sauté for a minute and add the oyster and tamarind sauce.
Continue cooking and add the balut juice and add salt and pepper to your taste and cook until the sauce thickens.
Serve and garnish with browned garlic and sprigs of onions.
Serves 2 (3 eggs per serving)
Nutritional Value per serving
Nutrients per serving
Energy 469.3 kcal
Protein 27.5 g
Carbs 9.4 g
Fiber 0.2 g
Fat 35.1 g
Water 171.3 g
Click this link to download the Magazine FREE and get more awesome Low Carb Recipes
(Visited 317 times, 1 visits today)