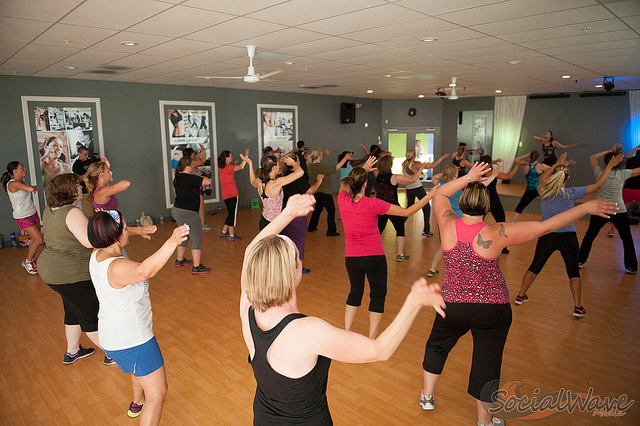 Anyone passing a popular South East London venue this week may have thought they'd stepped back in time to the hedonistic 90s, when dance music ruled the decks and raving was mandatory on a Saturday night for Britain's hardcore clubbers.
Thumping tunes rang out from The Vaults under Waterloo station while inside people bounced around wearing neon clothing and waving glow-sticks.
However there wasn't a hint of an illegal drug in the air – as the only high these ravers craved was the rush of endorphins from exercising.
The high energy class lasts an hour with participants following the moves of three teachers on stage.
A combination of cardio, interval training and conditioning workouts – set to old school dance classics – means they burn up to 500 calories while they feel like they're having a ball.
One of the happy 'ravers', Raina Marwaha, 31, told the MailOnline: 'The event was simply, brilliant and its definitely something we all want to do again, the atmosphere was fantastic.'
Another, Georgina Spenceley, 26, from Harlow, Essex, said: 'It was the perfect combination of a fun workout, neon outfits and my favourite 90s dance hits. With glow sticks highlighting our every move, it was a non-stop underground fitness party.'
The fitness rave is the brainchild of fitness instructor Shara Tochia, 28, from Clerkenwell, London, who is determined to bring it to the masses.
(Visited 58 times, 1 visits today)