We were joined in the studio by chef Alain Braux.
Alain is an awarding winning chef, nutritionist and author whose expertise covers nutrition for health and countering disease, how to eat GMO free and how to cook French style paleo dishes and more.
[divider dotted]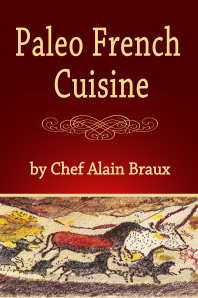 Q: How and why did paleo became part of your life?
A: Well, I was already gluten free and dairy free when I started looking into paleo and I found that made sense to me so I just started doing eating paleo and when I was convinced it worked for me then I've decided I have to write a book about it to educate other people but again my angle was I come from the chef's point of view so I come from the food point of view and now the scientific point of view.
So once I started to be serious about personally eating paleo then I started to get better and lose weight because you could be gluten free but you still can eat a lot of carbs.
So that's another thing that people don't pay attention and I keep on telling my clients – it's not because you're eating gluten free that you're eating healthy because in America and I'm sure in Europe you can find a lot of gluten free cookies, gluten free snacks, gluten free everything but still loaded with sugar and carbs.
So they think they're eating healthy but in fact they're not.
And so I said whether it's gluten free or not junk food is junk food.
So when I saw the simplified basic diet of paleo I thought this is it. This is great and from a  hef's point of view I wanted to help people understand that one can eat not just healthy but also good tasting food on a paleo diet because most of the recipes out there on paleo books are kind of like, they're not very good.
And so I drew from my experience as a French chef to put recipes that are very classical and paleo. But people don't think it's paleo and if you look at my list of recipes in my books – some of them are just classic French dishes.
Click this link to get the magazine FREE where you can read Chef Alain's full interview
Chef Alain Braux is an award-winning executive chef and multiple award-winning food and health author.Chef Braux is the Executive Chef and Nutrition Therapist at A Votre Santé – To Your Health Nutritional Services, a health food consulting private practice.
Chef Braux provides customized food plans for a wide assortment of food allergies: Gluten-free, Dairy-free, Sugar-free, Paleo, Vegetarian and Vegan. He has helped clients with Celiac, Autism, ADD/ADHD, Diabetes, Crohns' disease, IBS and other food-related illnesses.
Chef Braux is also an expert in GMO issues.
Chef Braux is an expert in food allergies diets and the author of multiple award-winning food and health books. "How to Lower your Cholesterol with French Gourmet Food", "Living Gluten and Dairy-Free with French Gourmet Food", "Healthy French Cuisine for Less Than $10/Day" and most recently "Paleo French Cuisine". Chef Braux upcoming book is titled: GMO 101.
Visit Chef Alain's Website
Like Chef Alain's Facebook Page
Follow Chef Alain on Twitter
(Visited 29 times, 1 visits today)