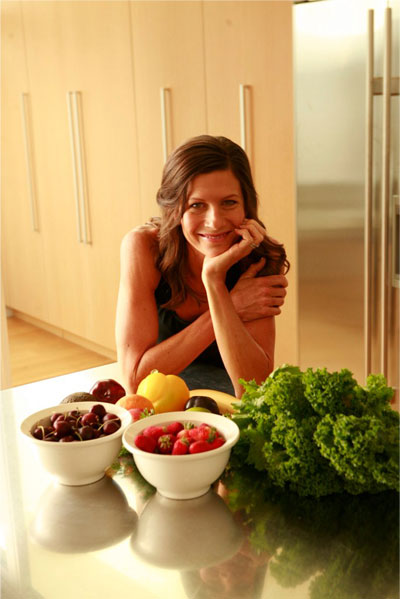 Nell Stephenson, Paleoista is the author of Paleoista-Gain Energy, Get Lean and Feel Fabulous with the Diet You Were Born to Eat (Touchstone, 2012) and coauthor of The Paleo Diet Cookbook (Wiley & Sons, 2010), with Loren Cordain, Ph.D., and Lorrie Cordain.
Most recently, she gave the keynote speech on the positive effects of Paleo eating on workplace productivity at the Airbus World Leadership symposium in Hamburg. She has been featured twice as a Paleo expert on The Dr. Oz Show, writes for several publications and teaches Paleo cooking.
Nell is coordinating speaking engagements and Paleo implementation programs for major corporations interested in the well being of their employees.
She has a degree in Exercise Science at USC, and also attended culinary school.  She is a certified private fitness trainer and Paleo lifestyle consultant, operating her Paleo-based custom nutritional counseling business.
Nell works online with clients around the globe to help them learn how to easily implement the principles of the Paleo diet into their lives: effectively, efficiently, and permanently.  She's working toward her long-term career goal of changing how America (or maybe even the world!) eats, one person at a time!
She consults for restaurants developing Paleo menus, has blogged and Twittered about all things Paleo since 2007, and is producing a series of "How to Cook Paleo" YouTube Videos.
Nell "walks the walk" of a Paleoista both professionally and in her sport.  An accomplished Ironman triathlete and marathon runner, she's living proof that one can compete at a high level in sport and life while following a completely Paleo diet.
Nell resides in Los Angeles, CA, and New York, New York with her husband, Chris, and their Weimaraner, Daisy.
Nell on the Dr Oz Show as Paleo Expert
Paleoista: Gain Energy, Lose Weight and Feel Fabulous with the Diet You Were Born to Eat (Touchstone, 2012)
The Paleo Diet Cookbook with Dr. Loren Cordain, PhD (Wiley & Sons, 2010)


(Visited 56 times, 1 visits today)