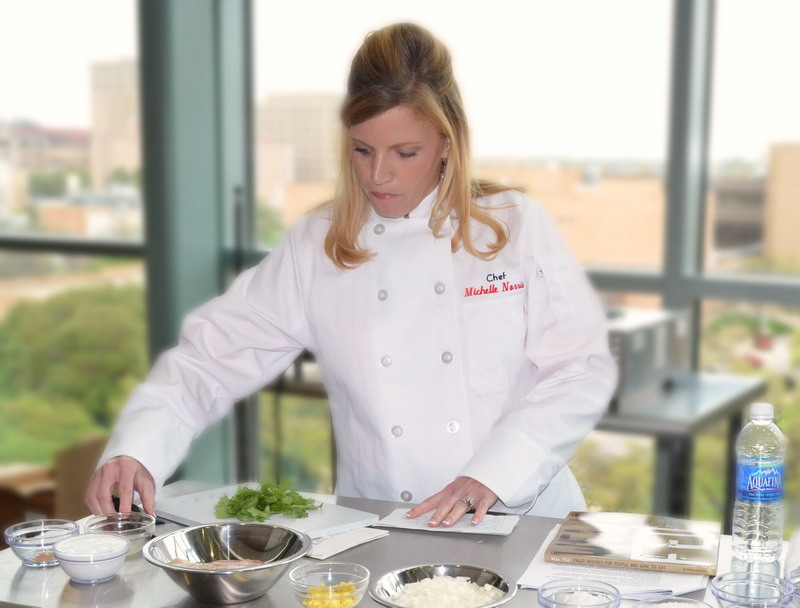 Michelle Norris is a self taught, life-long gourmand, with a love for coaching others in the finer points of achieving true kitchen mojo.A burning desire to re-write food policy on a national level as a "credentialed" food crusader has her currently pursuing a degree in the Culinary Arts. By creating new, innovative and gastronomic-delight Paleo versions of avant garde gourmet foods, Michelle wins-over even hardened skeptics to the idea that one need not sacrifice love of fabulous tasting food en-route to achieving — and maintaining — true Ancestral Wellness. As her food philosophy — "Variety, flavors & herbs are the spices of life" — suggests, she experiments continually with an incredible home collection of exotic spices, herbs, vinegars and oils to create an ever-expanding repertoire of amazing dishes. She is the Executive Chef and owner of Instinct Catering & Events in Austin, Texas.
She is a co-founder of Paleo f(x)™ LLC they are the producers of the highly acclaimed and much talked about Paleo f(x): Ancestral Momentum-Theory to Practice Symposium that took place in Austin, Texas March 14th – 17th, 2012 and again March 28th – 30th, 2013 and is set for it's 3rd run April 11th -13th, 2014.
Together, Keith and Michelle form the dynamic-duo of practical Ancestral Wellness implementation; harnessing theory, and putting that theory to work in everyday practice. Effective and efficient exercise, coupled with proper nutrition, form the solid base upon which true and lasting health and wellness emerge. Let Keith and Michelle show you how your inherent, stone-age genetics can be unleashed and coaxed to thrive — without having to sacrifice the "benefits of modernity" — in today's, fast-paced and hectic world. Keith and Michelle are co-founders and owners  of PaleoFX Austin Partners, a leading organization dedicated to educating fitness, nutrition and healthcare professionals and laypersons, on practical application of ancestral lifestyle theory.
Ancestral Momentum Partner & Founder
Facebook Page
(Visited 54 times, 1 visits today)