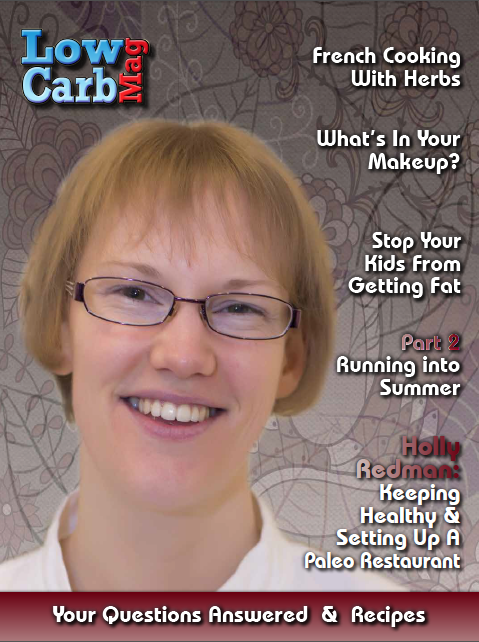 Hello and welcome to this month's Low-Carb Mag.
Many of us are conscious about what we put in our bodies – but how much thought do you actually give to what you put on your body?
The fact of the matter is that our skin absorbs a huge percentage of everything we put on it – whether that's soap, antiperspirant, lotions or even make up.
The other day, I had the pleasure of interviewing Trina Felber. She has a business that produces make up using natural ingredients that are suitable for paleo, and low carb followers or in fact anyone who is mindful of their holistic health.
Now we are not having the full interview this time… But the part where she spoke about make up and ingredients was too important and interesting not to say something about it sooner than planned. So we've given you a sneak peak from Trina this month and I am sure you'll find it interesting Holly Redman is another interesting lady that you met briefly last month. This month we've got the full interview from her about her paleo journey and setting up her paleo
restaurant.
If you're the sporting type you will no doubt have been enjoying Dave Bird's series on transitioning into summer exercise and we've got the second part of that this month where Dave tackles the subject of speed.
When I was growing up in the 60's and 70's fat kids were the exception rather than the rule. Unfortunately that is changing and you will notice that we are seeing more and more obese children tumbling out of the buses and out of their parents cars at the school gate. Maybe that's part of the problem – like many of you I used to walk to and from school every day. Sure, it was only a couple of miles each way – but I think a couple of miles made a big difference to my general level of fitness as a youngster.
Okay in many cases it's not practical for our children to walk to school – simply because of the distances involved. Even where that is not an issue – many of us live in quite unsafe neighborhoods so it's the fear of what might happen that means children turn up to school in the back of their parents car.
Too many times it simply down to convenience or frankly the laziness of children themselves. Now you might think my opinion is biased and it probably is – that's borne out of observation more than anything else. And frankly that journey to school is only part of the issue which we go into in depth later on
in the magazine.
No… This magazine is never going to be about platitudes… but it is going to be about practical help and encouraging people to think about life in ways they may not have thought of before.
I don't know if you agree or disagree – but I do look forward to hearing from you about that.
Paleo Chef Alain Braux is giving us the low down on using herbs in french cooking. So if you fancy something a little bit out of the ordinary then do dive in and find out about quick and easy ways to use herbs to make your dishes taste that much more well… French.
Have a great month and a great read.
(Visited 107 times, 1 visits today)