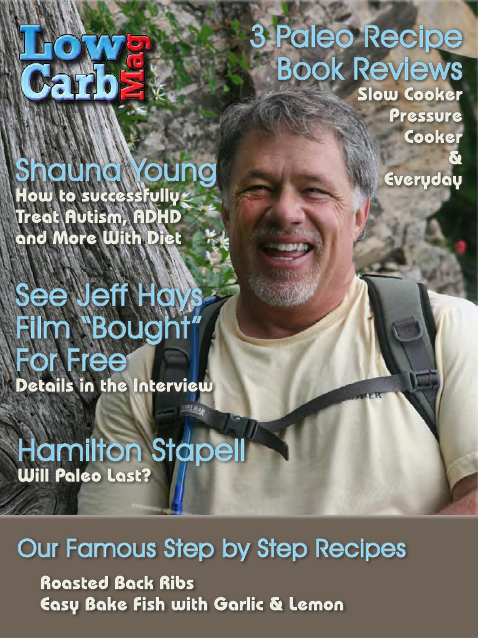 There's loads coming up in this issue!
First we have a great interview with Jeff Hays where he tells us about his latest film "Bought" that uncovers the deception and corruption hat is rife throughout the whole of the food supply industry and beyond.
Also, during the interview. You'll be able to find out how to see the film for free later in the month.
On top of that… Shauna Young continues her interview with Alain and me where she reveals more about the science of why her diet works so well for so many people on the autism spectrum. Also why the 'Oaff icial' autism industry bods don't want this cure getting out into the mainstream.
Hint it has to do with them losing money – BIllions and Billions of it.
Featured also this month is Dr Hamilton Stapell who tells about the future of Paleo and frankly you might be surprised where this well respected academic thinks it's going…
We also have three new guest reviewers telling us about the best of best selling paleo books that are on their radars at the moment.
Not to be missed.
So you might be wondering who can be a guest reviewer?
Well, the short answer is someone who has an objective opinion about a subject they are passionate about.
And that person could easily be you!
Yes seriously.
I know you – like most of our readers – are someone who takes living your paleo or lowcarb life seriously. And I'll bet you take the time to educate yourself on as much of living this healthy life as you can. That means you've read books, scoured websites, watched videos and done everything you can to ensure you get the best up to date information.
After all… Thats why you're reading Low Carb Mag – Right!
So that puts you in a great place to tell others who are newer to the lifestyle about books, websites, videos and so on that have helped you.
All the regulars are there too so it's an issue that is packed with usable information that's going to make living the life you have chosen just that little bit richer.
Lastly, you can count on our delicious recipes to tease your taste buds once again this month. And allof them are super easy to do as well so why not give them a try.
(Visited 137 times, 1 visits today)