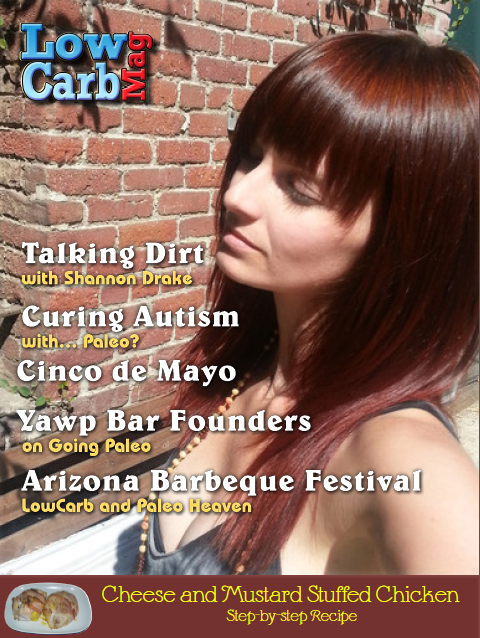 There is as usual a wide and interesting range of topics in this month's issue.
Last month you would have seen a little sneak peak about 'Give me the Dirts' Shannon Drake. Well this month we have the full interview that goes into depth about how and why she started here paleo centered business but also uncovers some of the secrets behind what's in them and why she chooses these very
particular ingredients.
In case you missed it in the mail out, The mag is now available as a PDF downloadable version – so no need to just read online or on your ipad application. You can now download it to any device that can read a pdf. Festivals loom large this month as on top of our usual round up of food festival, we also be looking at Cinco de Mayo and the Arizona Barbecue Festival.
But the one thing I'd like to really point you to is probably the smallest article. In fact it is not even an article – it's one of the recent LowCarb and Paleo Show interviews we had with Dr. Shauna Young where she talks about the huge success she has had over the last ten years in helping people of all ages deal with and get rid of Autism.
She has shown and has proof that – I'll say it plainly here…
You can cure autism with a change in diet.
Don't believe it?
Don't dare to believe it?
Don't want to believe it?
Well listen to the long video interview for all the details and if you still doubt it there are more than twenty detailed case studies you can get hold of that will give you the proof you need that are typical of the 6000 cases that Dr. Shauna has successfully treated over the last ten years.
Good food equals good health.
Here's to your good health.
All the best,
Mark
(Visited 115 times, 1 visits today)