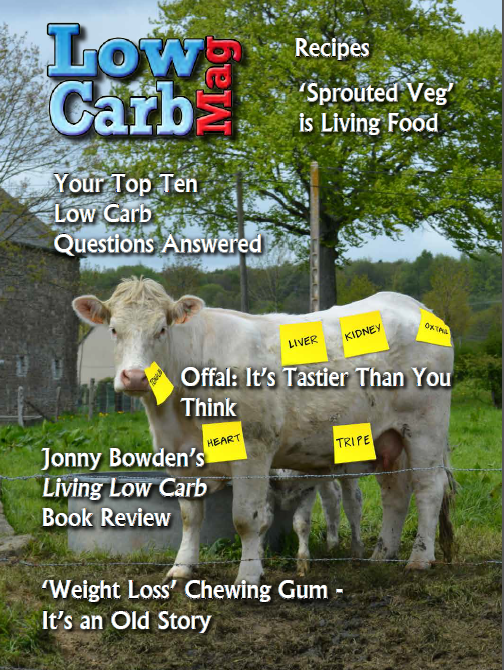 There's a whole lot of great stuff in this month's edition of Low Carb Mag.
John Moore is coming in with a good look at offal – from that much maligned and unpopular section of the meat counter. You know the bit I'm talking about… It's normally right down the end where the lights are bad and just next to the produce that's just about going out of date and is priced marked down for a quick sale.
But while that may be its popular reputation in some parts of the country – out in the sticks, kidneys, liver, brains and tripe to name just a few are still cooked the way grandma used to cook them and eaten with relish. Not only because it's jolly tasty but also it's really good for us.
For many low carbers the vegetable and salad selection that they serve up from time to time can be, well to put it bluntly – boring!
Well to help put an end to some of that boredom – we've got a couple of articles this month on sprouted vegetables which add a whole new range of taste, textures and colors to your meal.
Starting off with an excellent article by Isabell Shipard who shows us that sprouts aren't just vegetables they're actually a living food and a main article on sprouted vegetables looks at the background of where they come from, how they're grown and whether or not they're actually any good for us nutritionally.
This month we've also put together a collection of questions that you want answer to.
Plus there's a review on Johnny Bowden's book and some lighthearted humor as we look back in time at some of the old weight loss ads of yesteryear.
That's all rounded out of course with our famously delicious and easy-to-do step by- step recipes featuring well strangely enough, offal and sprouted vegetables and of course our monthly exercise.
So there is lots in store.
(Visited 148 times, 1 visits today)