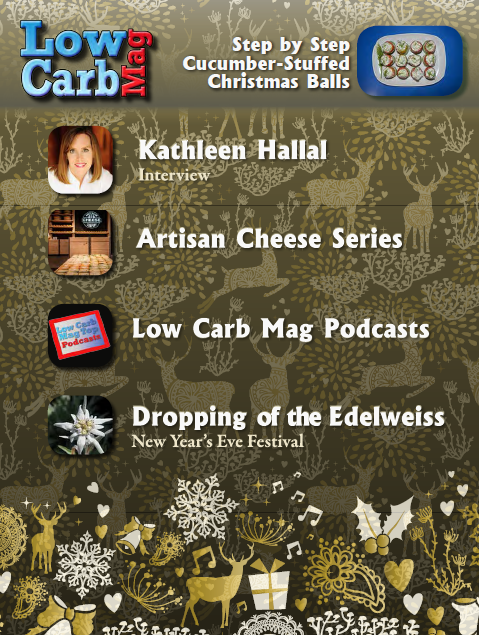 Get your copy of December 2015 Low Carb Mag
So the big elephant in the room this month is Christmas and of course those New Year celebrations. As usual we are a relatively Christmas free zone – not for any other reason than to give you a break from the usual holiday themes of trees, santas, carols and so on – with the obvious exception being that of the recipes.
in this edition we've got some great ones too including Cucumber Stuffed Christmas Balls, Holiday Roast Pork Belly, Low carb Orange and Spinach Salad and NO BAKE Mini Avocado Cheesecake
Most recipes work virtually anytime of the year, yet we could not help but see the festive joy in some of the ones in this issue – particularly if you fancy something a bit different. If that's the case why not try the Holiday Roast Belly Pork?
Maybe not for your Christmas roast but how about for new year?
Remember tradition is what you want it to be – you don't have to be a slave to it.
On top of the foody delights, we have once again a bumper packed issue for you with a huge interview with Kathleen Hallal co-founder of Moms Across America. Kathleen tells us why she and tens (maybe hundreds) of thousands of moms across the country have got together to force the giant food companies to put healthy ingredients into the food these moms give their children. You'll be surprised how effective this is becoming.
Then of course there's the festivals going on near you, Alain Braux's GMO watch, top podcasts and so much more.
I know you'll enjoy all we have for you in this edition.
But most of all from everyone here on the Low Carb Mag Team…
Do have a wonderful Christmas and an even better New Year.
(Visited 79 times, 1 visits today)