In January 2004, Jimmy Moore made a decision to get rid of the weight that was literally killing him. At 32 years of age and 410 pounds, the time had come for a radical change of lifestyle. A year later, he had shed 180 pounds, shrunk his waist by 20 inches, and dropped his shirt size from 5XL to XL.
After his dramatic weight loss, Jimmy was inundated with requests from friends, neighbors and complete strangers seeking information and help.
As an American blogger and author, he is best known for his "Livin' La Vida Low-Carb" books and blog. He has appeared on numerous television and radio programs promoting a high-fat, moderate protein, low carb diet plan. Moore also runs a popular weekly podcast that has run over 600 episodes featuring interviews with experts in diet, health and fitness.
Moore is regarded as a fan of low carbohydrate diets and eating plans and promotes them through his blog, books, YouTube videos and podcasts. He currently resides in Spartanburg, South Carolina.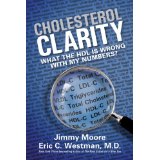 (Visited 58 times, 1 visits today)