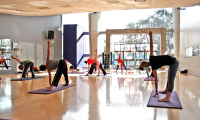 March has been proclaimed Multiple Sclerosis Awareness Month, spotlighting MS awareness, support and resources.
Multiple sclerosis (MS) is a chronic disease of the nervous system that affects different parts of the brain and spinal cord.
In honor of Multiple Sclerosis Awareness Month, here are two ways that yoga can help benefit people with MS.
Yoga Can Help Improve Mind and Body
People with MS have a wide range of physical and mental symptoms including problems with gait, balance, strength, anxiety and depression. A 2013 study published in the International Journal of Yoga Therapy found yoga can improve strength, balance, mobility and quality of life in individuals with MS.
Researchers at California State University in Sacramento, California investigated the effect of a four-month yoga program on individuals with MS. Twenty-four MS patients were assigned to a four month Ananda yoga program, including 17 weeks home practice.
Ananda yoga is based on the teachings of yoga master Paramahansa Yogananda, a form of Kriya yoga including yoga postures, breathing and inner awareness.
The participants' physical and mental abilities were assessed including strength, balance, mobility and quality of life.
The researchers found there significant improvements in strength, balance, mobility, mental well being and quality of life
"The results of this exploratory study suggest that yoga can have a positive impact on physical functioning and quality of life for persons with mild to moderate MS," the study authors conclude.
(Visited 33 times, 1 visits today)