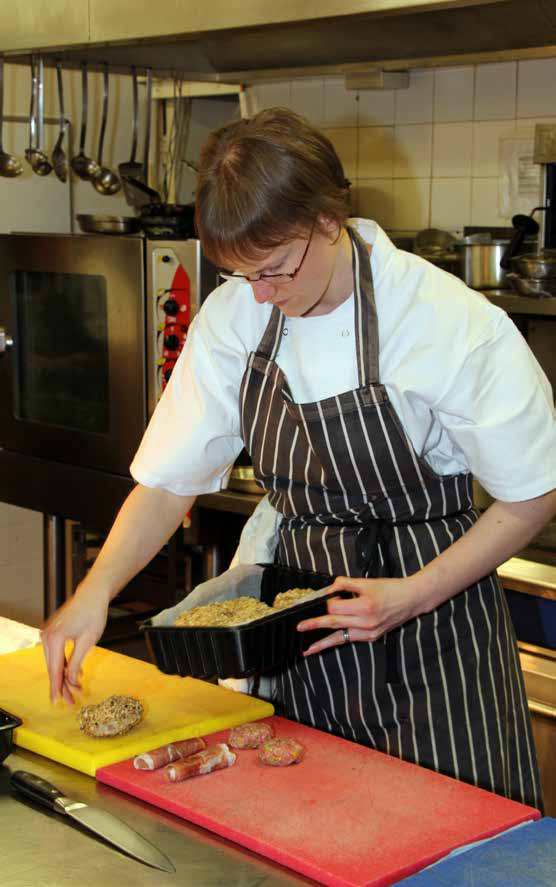 This month on Low Carb Mag, we've got the full interview from Holly Redman about her paleo journey and setting up her paleo restaurant.
Holly Redman is a Nutritional therapist, chef and chemistry graduate, She is the driving force behind Pure Taste.
MM: Hello Holly! Have you had a wonderful day?
HR: I have had a wonderful day.
MM: That's good. I've had a look on your website and your Face book page and I've noticed you're doing something called a PopUp?
HR: Yes well I've finished that now because I'm trying to open the restaurant and I needed the time and so I run the PopUp for ten  months, from February to November last year as a monthly event and then I stopped in November and I'm concentrating all my efforts on trying to find a property to open it as a full time restaurant.
MM: That sounds all very exciting. So what was the impetus behind wanting to start the restaurant?
HR: Well let's start right at the beginning, I did chemistry at the university and I fairly enjoyed it but I didn't want the career at the end of it.
I was never going to enjoy working in a white suit in the lab and so after the first year of my degree I decided that I will carry on because I
was really enjoying it but I wanted to try something else… So I trained in Nutrition and I did that at the weekend while I was finishing my
degree and thoroughly enjoyed it with much more of the people orientated thing that I wanted and it does meld quite nicely with the
chemistry.
Once I graduated from both courses, I went to work for one of the big supplement manufacturers over here, started out in the food
regulatory side, and end up in practice and education. I talk throughout the country telling people about the supplements and why
we designed them the way we have and all that sort of thing. While I was also practicing as a Nutritional Therapist part time, so I was doing that and lecturing.
I was thoroughly enjoying myself for about 4 or 5 years but there was always something- kind of – missing me. And it was always 'cooking'. For as long as I can remember, I've always loved food and cooking. I think if I hadn't been academic, I'd probably got into catering or chef work much earlier on.
Because I was quite good at science and was kind of expected to go to university and do something a little bit more academic with my skills. But an opportunity came up at work and they want some change of direction the company was going in. It meant that my job role was going to change in a way that I was not that happy with. So we actually arranged it so I can take voluntary redundancy.
By this point, I have been volunteering in a local very good restaurant to get a bit of experience because I've already started to think that maybe that was where I wanted to go. So I took the voluntary redundancy and I spent all the money on a cooking course, which was kind of scary at the time because money always supposed to be living on… But I decided that it was much better to spend it on furthering my career so I went and did an intensive cookery course.
When I finished that, the restaurant I had been volunteering at gave me a part time job. I carried on doing my lecturing and all the bits and pieces to keep paying the bills and was thoroughly enjoying myself at the restaurant and helping them out with designing gluten free recipes and when they had people that had allergies and thing they couldn't eat I was there to help and the lads in the kitchen said "Look, you really need to do a PopUp because you're so good at this gluten free stuff. There is obviously a market for it, why don't you do a PopUp?"So I umm'd and arr'dabout it and eventually said "I'll do one -but I want to do it here and you've got to help me".
So Jeremy, who runs the restaurant , very kindly said that I'll have it once a month on a Monday or Tuesday night and the staff in the kitchen
agreed to work for me and we did our first one in February and it was an absolute roaring success.
We were fully booked for every night we did for about two months ahead with a waiting list and we all seemed to love what we're doing. So off the back of that I got the experiences doing fully planned restaurant evenings and realized it was what I really loved doing, so I teamed up
with my friend and decided that we're going to try and make it a full time restaurant.
So, we ran a Kick Starter campaign just before Christmas to raise some of the funds and we now got all our equity investment and all the money in the bank and we're almost set to go – once we find a property.
MM: Excellent. That was a really nice background.
HR: Yeah it was an interesting journey. It's been many different routes to get to where I'm going and I'm sure that it wouldn't be the last thing I do but it's definitely something I'm very passionate about.
Download the mag and read more of Holly's interview
Holly Redman is a Nutritional therapist, chef and chemistry graduate, Holly Taylor is the driving force behind Pure Taste. Starting out as a monthly popup restaurant in Sussex, Pure Taste is soon to be London's first restaurant specialising in gourmet glutenfree and paleo-friendly food. Serving up a smorgasbord of devilishly delicious dishes, Pure Taste's food is designed to make you feel as good as it tastes, creating a unique dining experience that can be enjoyed by everyone.
Since discovering the benefits of a gluten-free and paleolithic eating, Holly's kitchen has been a non-stop hive of experimentation. Motivated by a passion for seriously delicious food, her mission is to change the way people see free-from food – from an uninspiring dietary restriction to a mouth-watering way of eating that leaves you feeling less bloated and more energised For more information check out www.puretasterestaurant.com and www.facebook.com/PureTastePopUp
(Visited 76 times, 1 visits today)