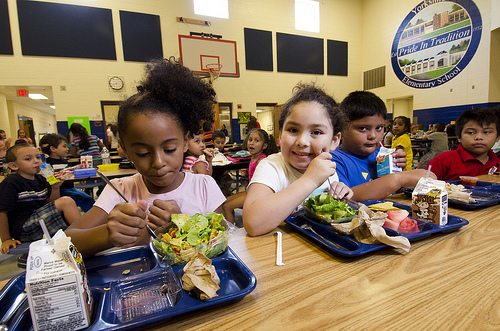 Giving kids healthy options at school could boost their daily consumption of fruits, vegetables and whole grains, according to a new study.
Researchers from Michigan State University found that when mostly or entirely healthy foods are offered either a la carte or through vending programs at schools, middle school-aged kids ate 26 percent more fruit, 14 percent more vegetables and 30 percent more whole grains over the course of a day.
The study, published in the journal Childhood Obesity, included 65 Michigan schools recruited in 2007 and 2008 that had applied for small grant funding; schools had to have at least half their students eligible for free or reduced-price meals. The schools were randomly assigned to different nutrition programs/policies, including having to market healthy foods, raising nutrition standards for foods provided in schools, and offering healthy food taste tests.
The schools that "started new vending or a la carte programs with almost entirely or entirely healthy choices, such as salads, fruits, and whole grain snacks" experienced improvements in students' diets, researchers wrote in the study. In addition to eating more produce and whole grains, the students also consumed more calcium, vitamins A and C and fiber.
"When healthful food options are offered, students will select them, eat them and improve their diet," study researcher Katherine Alaimo, an associate professor of food, science and human nutrition at Michigan State, said in a statement. "Our study shows that schools can make the kinds of changes required by the forthcoming USDA guidelines, and these changes can have a positive impact on children's nutrition."
Source: Huffpost Healthy Living
(Visited 50 times, 1 visits today)