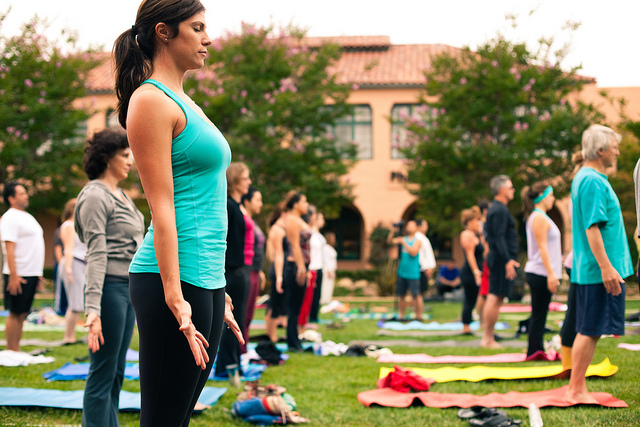 Please come in comfy shorts or tracks. Party wear and high heels are a strict no. Also, no alcohol or greasy food will be served." Flinch all you want but that's how a few party invites sound like these days. The aim is to get 'high' on fitness. Breaking the routine of a dull wine and cheese evening or night-long boozing revelry, health-conscious partygoers are soaking up the new 'fitness party' fun.
Cardio carousal
"Fitness bashes let you party without the pressure of looking good or wearing make-up. You can actually dance till you drop at these parties since you don't have to wear high heels! It is a party minus inhibitions," says Reema Sarin, a dancer and choreographer. She uses Bollywooddance moves to stay fit, and regularly throws fitness bashes at home. The dress code is strictly gym wear and the food menu is all-healthy Continental and Mediterranean snacks and salads. The music is a mix of house, progressive and Bollywood hits that go well with a freestyle workout. "We do signature Bollywood moves like Ranbir's latest pelvic thrust in Badtameez Dil," explains Sarin.
And it seems clubs aren't the only option for nighttime fun anymore. Sample Kiran Sawhney's Milonga (Argentinian Tango) evenings for instance. We are talking about pure, sensual Tango moves inside a health club! After Salsa and Zumba, Milonga is the new fitness fad to have entered gym spaces in Delhi. "People want to get fit through dancing now, be it through pole dancing, ballet or Milonga," says Sawhney, who organises Milonga fitness parties at her home at least once a week and also curates private fitness bashes on request. She says, "Fitness bashes are very addictive. Working out together, dancing together, releases happy hormones which doesn't happen in solitary workouts."Sawhney also organises healthsavvy potluck lunches, yoga get-togethers and outdoor biking picnics.
Tripping on good health
The urban dweller's hectic lifestyle makes it impossible to divide time between work, fitness, fun, socialising etc. Social psychiatrist Dr Harish Shetty believes, combining fitness with parties or vacations with functional purposes, such as a rigorous fitness boot camp, is a perfect solution to spend time 'chilling out', letting off steam and also do something constructive. Fitness expert Leena Mogre says, people are tired of bingeing holidays and want to work outeven when vacationing. So, this monsoon, a lot of people are headed to Goa to simply enjoy beach runs to keep fit. Others are trekking in the Himalayas to get their muscles toned and breathe in some fresh air. Think of a yoga holiday in the Himalayas or a belly dance session with an expert in Goa! Who minds stretching out a bit in a scenic setting?
"There are two categories of people who undertake group fitness vacations. People who are already working out at the gym and want to test their stamina in an outdoor, real setting. The other section comprises people who have no definite schedule and have been yearning to start a fitness regime. They happily take this break to get started on something," says Mogre, who has been taking fitness breaks for the last 10 years and swears by them. "Look at the advantages. You are a part of a group of unknown people from varied backgrounds, yet they have a relatively similar goal. And don't forget the picturesque setting which is hugely motivating and rejuvenating."
Dr Shetty says, "Earlier, we would only hear of people visiting spiritual centres. But today, we get numerous cases of people taking short breaks just to work out. I just have one recommendation for the results to be lasting: Don't just start, be regular at it."
(Visited 58 times, 1 visits today)