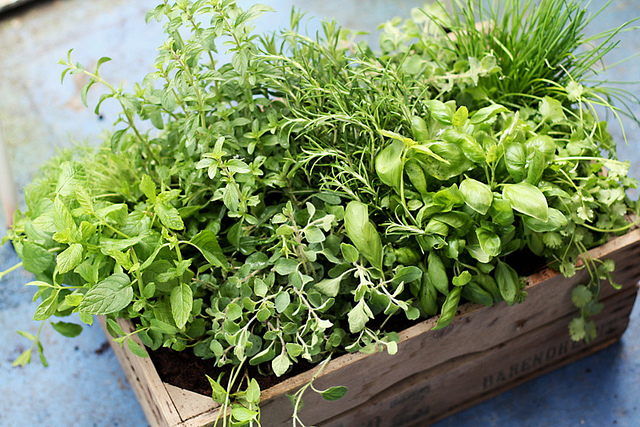 Here is Chef Alain Braux's personal list of French herbs and their principal uses in French cooking. In almost all cases, fresh herbs will give dramatically better results than their dried counterparts. However, some freeze dried herbs can give you really good flavors as well.
Basil – Basilic
Basil is used almost exclusively in its fresh state, although basil preserved in oil does retain its flavor. Used all over Mediterranean
cuisine – tomato goat cheese salad, eggs, pasta, chicken, fish, vinaigrette recipes and of course pesto. While in season, use all the fresh basil you have, make a large batch of pesto with it and freeze in small containers or ice cube trays.
Bay Leaf – Laurier
Sweet bay or bay laurel is the only type used in cooking. Its dried leaves have a sharp and pronounced taste. They are used in stews, poaching liquids, and marinades. Normally one bay leaf is enough to flavor a whole dish and it is always removed before serving.
Bouquet Garni
A bouquet garni is a bunch of assorted French herbs tied together with kitchen twine and added to soups, stews and sauces. The following
classic French dishes, Boeuf Bourguignon, Soupe a l'Oignon, Bouillabaise, Blanquette de Veau, Poule au Pot and Cassoulet are flavored
with a bouquet garni.
What herbs you choose to put together is up to what is available nearby but the classic choice is thyme, bay leaf, and sage.
Depending on the dish, other choices can be parsley, basil, burnet, chervil, rosemary, peppercorns, savory and tarragon. Some cooks like to
add vegetables such as carrot, celery leaves, celeriac, leek, and onion.
The bouquet is not always bound with string. Its ingredients can be placed into a small sachet, a net like a cheesecloth, a coffee filter, a used bas (hose) or even a tea strainer.
Chervil – Cerfeuil
This is a very common herb in French cooking. It has a subtle anise taste and is usually used fresh in salads, soups, and omelets and added
at the last minute.
Chives – Ciboulette
Chives come from the same family as onions, the allium family. They have a flavor between onion and garlic. They should always be used fresh as the freeze dried version has no flavor. Chives can be used in vinaigrettes and sauces, with eggs,and also as a final garnish. To get the best of their spicy flavor, always chop chives finely just before you use them and sprinkle over your dish.
D ill – Aneth
Dill seed is used in marinades or to flavor vinegars. Fresh dill is used with fish (notably salmon), cucumbers, omelets, salads, pasta and dill sauce. Dried dill is rarely used as such.
Fennel – Fenouil
Fennel is a beautiful herb with fine feathery green leaves similar to dill but its flavor has a sweet anise flavor instead.
Fennel is often flavoring oven-roasted fish. Its seeds or leaves give an excellent flavor when steeped in the water used to poach fish.
Finely chopped leaves give a wonderful flavor to a fish sauce and counteracts oily fish heaviness. You can pull the leaves and add to
salads or raw or cooked vegetables. Dried seeds are used whole or ground to flavor bread, biscuits, soups and pickles.
Fines herbes
This term designates a mix of finely chopped fresh French herbs, including marjoram, parsley, chives, tarragon and chervil. Unlike bouquet garni containing pungent and resinous herbs, fines herbes are always used fresh. If you feel creative, you can add marjoram or oregano, cress,cicely, or lemon balm. Typically they are added to recipes at the last minute. Fines herbes can also be used to make compound butters and to flavor an omelet.
Download the mag and read more of this article
(Visited 37 times, 1 visits today)