Marianita Jader Shilhavy, CND (Certified Nutritionist/Dietician in the Philippines)
Earned her bachelor of science degree in nutrition at Centro Escolar University in Manila. Understanding the nutrition of Filipino foods, Marianita worked for over eight years as a hospital dietician and nutritional counselor in the Philippines, using her knowledge of Asian foods to help people recover from illness.
Brian W. Shilhavy, BA, MA
Brian earned his Bachelor of Arts degree in Bible/Greek from Moody Bible Institute in Chicago, and his Master of Arts degree in linguistics from Northeastern Illinois University in Chicago. He also lived in the Philippines for several years with Marianita and their 3 children observing firsthand the differences between the diet and health of the younger generation and those of Marianita's parents' generation still consuming a traditional diet. This led to years of studying Philippine nutrition and dietary patterns first hand while living in a rural farming community in the Philippines. He is currently the CEO of Tropical Traditions, Inc.
In 2004 the Shilhavys published their book highlighting the research on coconut oil as well as over 100 of the thousands of testimonials they had acquired from being the first ones in the US market to sell a dietary Virgin Coconut Oil. While others were beginning to publish books about coconut oil about this time as well, the Shilhavys were the only ones who actually lived in the Philippines developing the product, and then had direct communication with thousands of people testifying to the health benefits of Virgin Coconut Oil in their diet.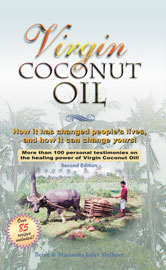 Brian and Marianita Shilhavy's Website
(Visited 324 times, 1 visits today)