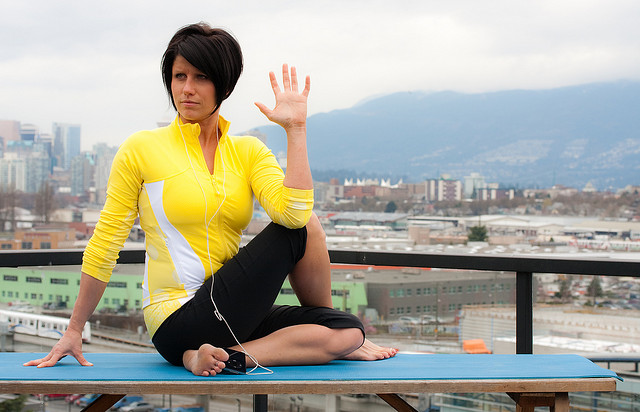 There are only so many hours you can spend on a stationary bike before you're ready to swear off spin entirely. And don't even get us started on our park's monotonous running path. Sometimes you need a change of pace. Good news, we've got 10.
Check out these super-fun and totally unexpected workouts that are sure to get you out of your exercise rut.
Aqua Zumba
What do you get when you mix Zumba and water? Why, Aqua Zumba, of course. Performed in a pool and offered at gyms nationwide, this high-energy (and oftentimes comical) workout features all the same heart-pumping moves as your regular Zumba class, but it's easier on the joints.
Tramping
Calling all Spinning enthusiasts: Ever feel like your knees may fall off after that latest SoulCycle bender? We've got a (super-fun) solution — JumpLife. The new TriBeCa studio, devoted entirely to "tramping," features high-energy classes performed exclusively on — you guessed it — trampolines. Indeed, the same contraptions you flipped (or flopped) on as a kid are actually the idea behind this low-impact, high-cardio workout. Do your joints (and mood) a favor and get jumping.
Yoga On The Roof
You've been doing sun salutations for years, but imagine hitting those same poses while actually facing the sun. One step inside NYC's swanky Clay Health Club & Spa and you'll see why it's so exclusive (the espresso/smoothie bar is a must-try). The private roof deck is a stunning setting for not only yoga (classes are available at both sunrise and sunset once a week, mat included) but also a barre workout and a high-intensity circuit routine. Treadmills are so last season.
Spin In A Pool
Since most Spinning classes make us look as if we've just stepped out of a pool, we couldn't resist one that involves just that. At AQUA, the bikes are in water. Seriously. The TriBeCa (by way of France) studio takes elements from traditional Spinning — like the high-calorie burn, upbeat music and full-body engagement — but does it all in a waist-deep pool. The result: a low-impact sweat session that accomplishes the same toning and tightening while managing to feel like a trip to the spa (well, as best as physical activity can). See you in the shallow end.
Underground Hip-Hop Class (Complete With Live DJ!)
We've found a place where camaraderie and easy choreography combine, inspiring us to happily funk our way to fitness. GROOV3 is a dance-class workout and pseudo underground cult led by hip-hop teacher Benjamin Allen. Allen's a professional dancer (he was featured in the movie Rent), but his is no snobby, competitive class. The hour-long workout has a live DJ who spins hits of the 90s while Allen patiently demonstrates easy-to-follow steps. While we forgot parts of the dance halfway through, we kept moving and caught up thanks to our fellow students — one woman even stepped aside so we could see Allen better. And for the entire sweaty, musical hour, we didn't think once of how we looked — only how much fun it is to dance.
A Dance-Club-Inspired Cardio Class
The lights are dimmed, Beyoncé starts bumping and suddenly you're sweating more than you do in a Bikram session. No, you don't have to step foot in a club. It's 305 Fitness, a new dance-inspired cardio class. (Hint: that's Miami's area code.) Our likeliest comparison is Zumba on steroids — but way more fun. There are three styles to choose from (original, Latin and sculpt). We opted for the original 55-minute workout with the founder, Sadie Kurzban. While we were warned of the class's intensity, we figured our childhood days of jazz and tap lessons had us covered. Holy booty-popping, were we wrong.
The New Workout That Stretches You Out
We may have discovered the ultimate workout: It comes to you, doesn't involve equipment, is only as hard as you want it to be and helps your body feel healthier and move better. Too easy, right? Well, kinda, but it works. Chicago "stretch therapist" Estelle Harford of Stellar Strength is one of only 25 Global Master Ki-Hara practitioners in the world. The discipline helps eliminate pain, reactivates and releases muscles, builds new muscle and improves what she calls "true flexibility."
(Visited 43 times, 1 visits today)